The SpeaK project is a platform for organizing, presenting and sharing sound lexicons
---
Access to the complete SpeaK Documentation
Reference to mention : Susini, P., Houix, O., Misdariis, N., Faramaz, P., & Pellerin, G. (2022, April). The SpeaK project: A collaborative platform for presenting and sharing sound lexicons. In 16ème Congrès Français d'Acoustique, CFA2022.
The SpeaK project was developed under the surpervision of the Sound Perception and Design group (Ircam STMS Lab).
Wi
...
List of lexicons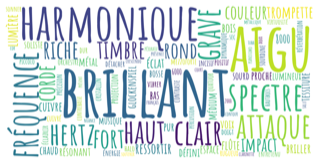 List of words frequently used to describe the perceived characteristics of a sound
---
The lexicon words4sounds.speak was developed to acquire a vocabulary to communicate on the perceived characteristics of a sound, and to foster the perception of these characteristics by listening to sound examples.
Each word is presented by a defini...

Voice imitations are a good way to communicate about sounds, especially when you don't have the vocabulary to describe them.
Vocal imitations are therefore a good way to probe perceptual representations of sounds.
The imitations.speak lexicon provides examples of vocal imitations of environmental sounds including sounds of solids, liquids, g...